In my almost two years of "living" here in the Emirates, I've only been to The Dubai Mall twice. Once was during the
New Years' Eve
, it was love at first sight. And then the second time was last Friday, with Teen and Anei. Going there's yet another adventure since we will be coming all the way from Sharjah. After a bus ride that took 45 minutes including the Thursday night rush, we arrived at the Burjuman Station around 7P, hailed a cabbie going to the nearest Metro Train station and then off to The Dubai Mall we go. It was just 4 stations away so we were only charged with 4.50DHS per head and again, nothing like any MRT experience at all. No S's, as in
siko
, skip train or salary deduction for that matter. Eezy breezy! Hahaha!
It was my first time to go there by train so I was kind of surprised to see a bulk of people with their cameras held up right outside the end of the tube. Turns out, it's a perfect vantage point if you want a photo op with Royal Gorgeousness Itself, The Burj Khalifa. However, the moon and the almost-empty parking lot caught my attention first, I asked them to snap a photo of me.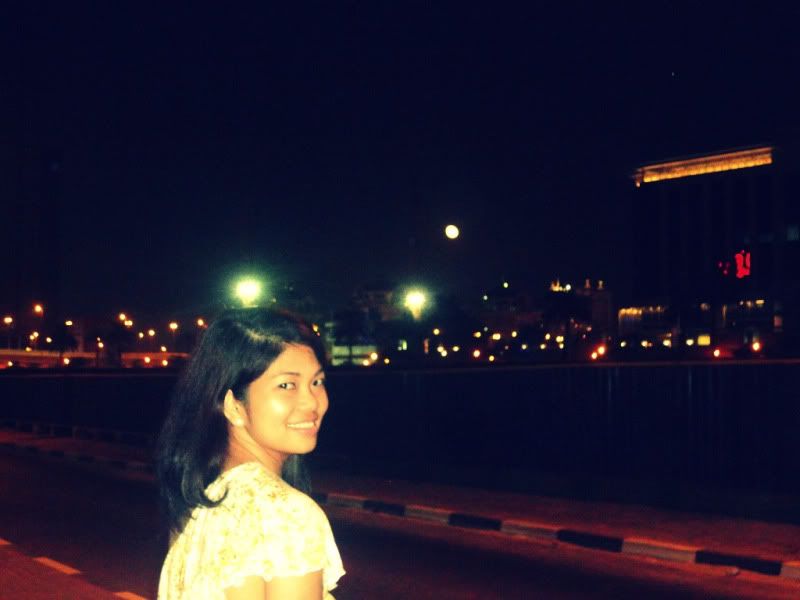 We took turns of having our photo taken with its Royal Gorgeousness and here's my version. I won't get tired of having photos with him, he's so tall and charming and... sparkly! And oh, did I mention tall? My love for everything sixfooterish and beyond, justified.
H&M asymmetric top | Zara pants | Vincci sandals | Lacoste white purse
We spent a loooooot of time taking photos of ourselves during our walk to the mall itself. So funny I still feel so touristy around the city considering I've been around here for some time now. Here are some snaps!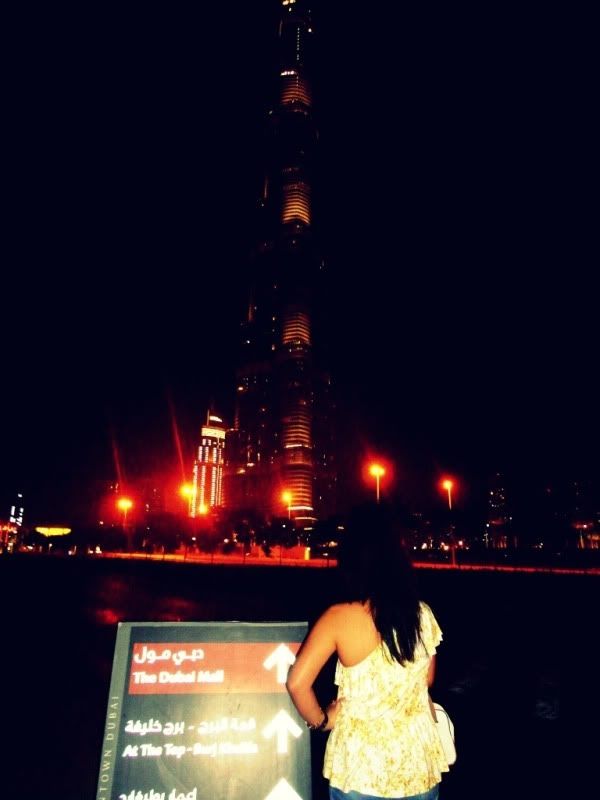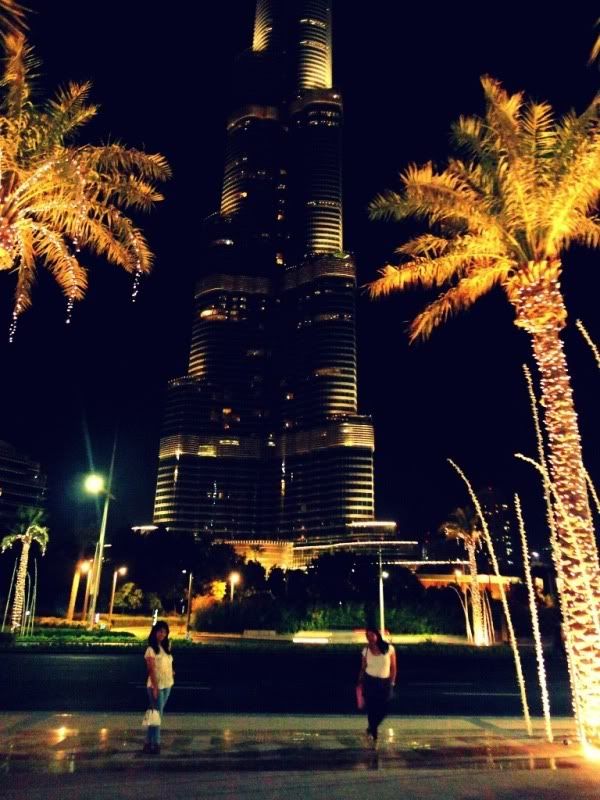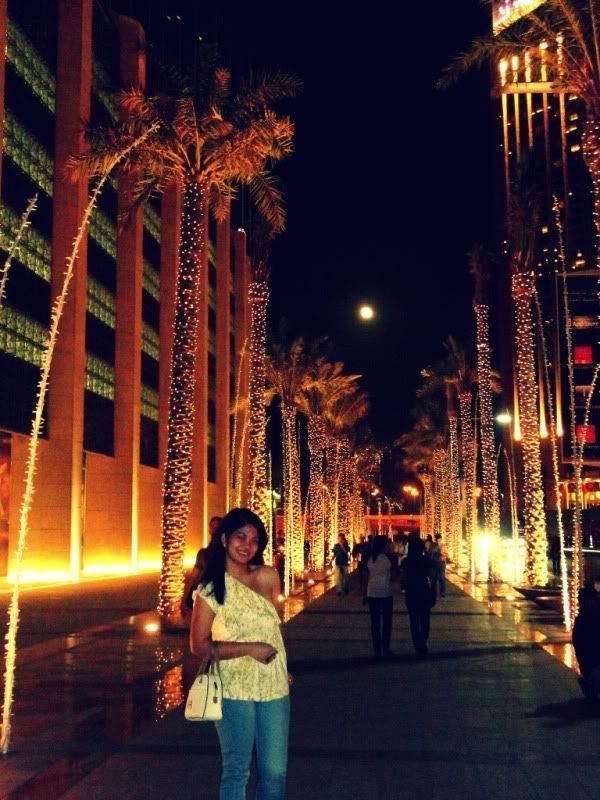 I am a sucker for good lightning. I love it when city lights are shining like diamonds and Dubai never ever fails to satisfy that first-of-summer-feeling I seem to have all year long. Look at that walkway... How royal!

Upon entering, we were overwhelmed by the amount of luxury cars in line for valet parking! Sports cars and four-wheel-drives alike! Such a pleasure to look at, the fabulous life of the rich and the famous! HA! With the lifestyle these people have, it's a shocker no more but you know how I roll, I almost fangirl over anything so...

Inside the mall, you'd probably get lost with the vastness of the whole place! We only get to walk around the Fashion Avenue and not gonna lie, it was exhausting. But very rewarding! The Dubai Mall offers you a huge array of shops, from the designer brands to high street fashion down to a great selection of cuisine when you get all hungry after all the walking, talking and shopping. One thing that'll catch your attention will be this larger-than-life in-house aquarium. Yes folks. It's right inside the mall.

Right before heading down to the resto area, we found this bunch of silver surfers divers! I haven't quite figured out if they're supposed to mean something... or anything at all. Hee!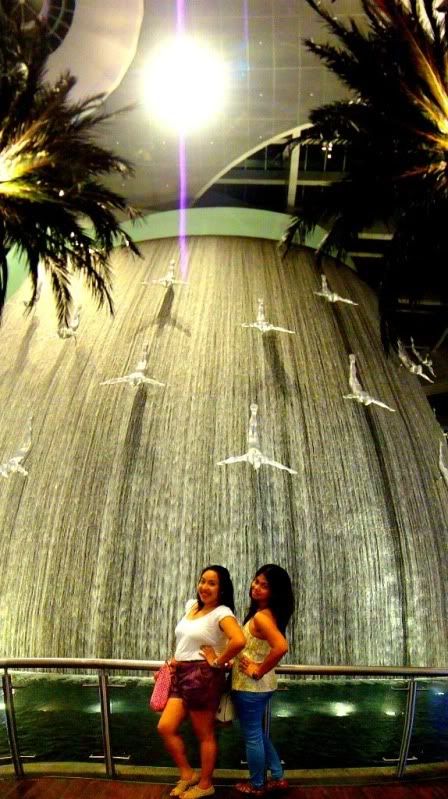 Since the mall can get pretty much too complicated for the three of us, we usually seek the help of our buddy right here! From Topshoppin' to Longchampin' and everything in between! Also, it didn't help that Kim Kardashian, yes, that Kim, happened to be in one atrium around the Fashion Avenue for the launch of Millions of Milkshake! Place's packed with beautiful people! I had fun just looking around! What an eyes-breaker! I mean, it's a usual thing to see girls ogle over boys, fine, women over men, but the other way around? You have got to be kidding me! The alpha males, Araboies and foreginers alike, were all over the place - cheering for Kim! One for the books!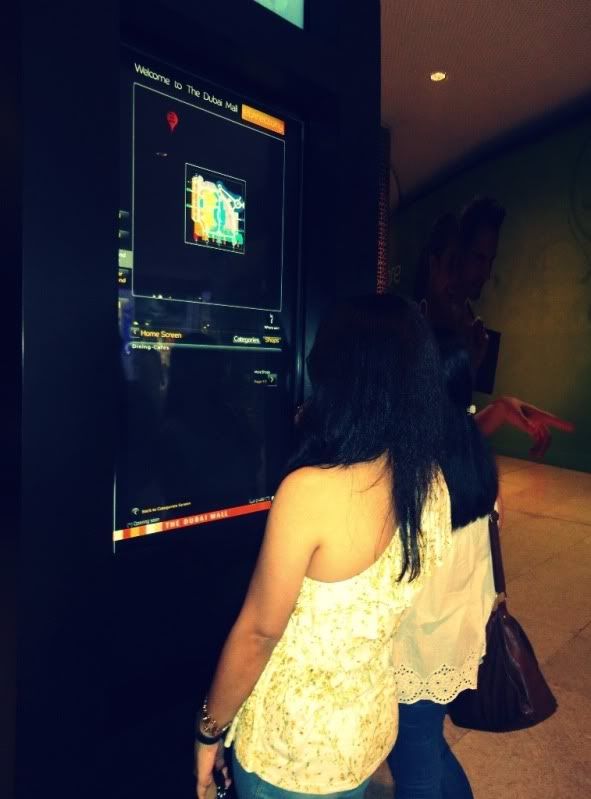 After checking out the stores on our list, we finally decided to grab a bite. Dimsum delight over at Ping Pong Resto. But that will be for another blog entry. We came up short with all the planning since we missed out on the Dancing Fountain Show which was part of the original plan. Oh well, that can only mean one thing! We are definitely coming back! Perhaps in December? Hoping against hope they'd give us the treat of a Sparkling Burj Khalifa then!

For two consecutive months now, we are kind of successful in making the pact come to life! And that is to spend a guilt-free-weekend anywhere in the city once a month! You already know what's in store for us this November! An entirely different way to spend a Friday, not that I am complaining! Can't wait! Been saving up for a lot of things but hey! Once a month treat wouldn't hurt right? We deserve it!

For now, t'was just another awesome weekend in the city of millions for the girl. Find me.