Hello everyone! Before anything else, my thoughts and prayers to everyone back home especially to those who have been seriously hit by the recent calamity. Pedring, a national heartache in the form of a super typhoon, has hit our humble island. Made a lot of damages, left a lot of casualties, took a lot of lives. Please recover soon, Republic of the Philippines. I'm just thankful that the storm has passed and now praying for houses, electricity, faith and hearts to be restored.
Midweek excited me more than the weekend this week. Get it? Get it! :) I had it all planned out with my littlest sister last Monday night. It's been a while since our last sisterly bonding and they were mostly just grocery shopping or paying bills which is technically malling since we get them done inside the mall. But not today, I am so happy we were able to do it differently! We both needed this therapy!
I cannot believe we spent 2 solid hours inside H&M!!! There's a massive sale going on and it is a mortal sin to let a sale pass you by! We carefully hoarded the area, systemically picked out the pieces we might want to take home, and then tried them on! Here's us during our first trip to the fitting room!
We managed to cut down the initial bulk and decided to run another sorting out cos we both only ended up with 1 piece each! Can you imagine the horror of being surrounded with clothes on sale and you can't seem to find pieces you actually like? Worst. Feeling. Ever. So here's us during the second one!
How I wish my room had this kind of vanity mirror complete with all the light effects!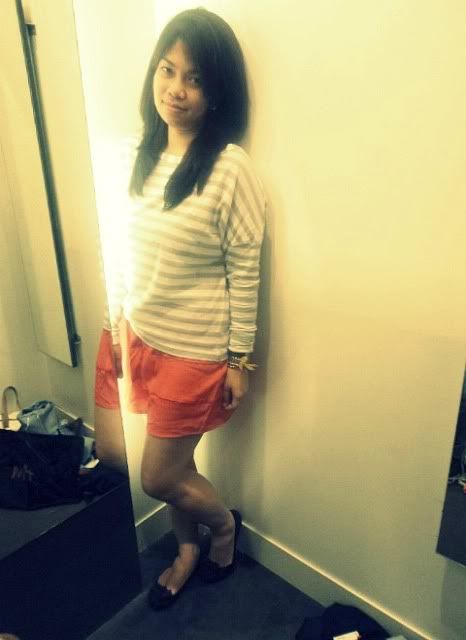 And here's a funny story about my eyeglass-less face. I was already running late earlier today and I cannot seem to remember where I put my eyeglasses the night before. It's so hard to look for something without my glasses on so just imagine if it's actually the one missing! Good thing I had my go-to-pair of lenses and that they did not give me a hard time. Even my sister says I look better and more fresh without my glasses but I feel more comfortable with them than with lenses. I will always choose comfort over and above everything else. I am a stubborn fella like that. So here you go, my eye-baggage. In black and white. HA! :D
I ended up with a few more stuff to add into my growing collection of gray and stripes, a pastel-colored-flowy shorts and a floral asymmetric blouse for only 70DHS, that's a little under Php 800. Can't wait to actually wear them out and pile on excessive accessories!
Went home with tired feet but a very happy heart! It's really amazing what retail therapy can do to you. It's almost the same as seeing a cotton candy crush or grabbing an ice cream fix of your fave flave, an instant pick-me-upper. And what better way to do it than do it with my sister! Thank you Anei! I had fun fun fun! Too bad we weren't able to grab a cuppa coffee as originally planned. There were no Sbux in the same mall we are in so we agreed to pass. Coffee can wait. For now, that's just about it for our Wednesdate!

How was yours? I hope it was therapeutic too. In whichever way you prefer! :)