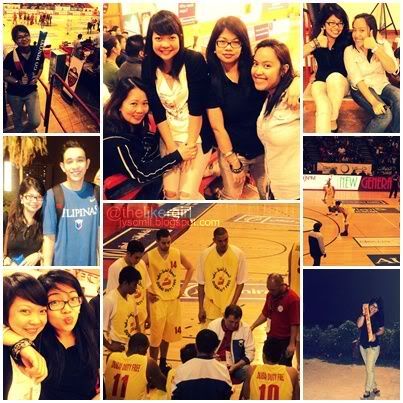 I cannot speak for the rest of the Kabayans in here, but I can surely speak well for myself and my family who were blessed enough to be able to watch all of the Smart Gilas Pilipinas games for the recently conducted Emirates NBD Cup 2o11 at Al Ahli Club, Dubai last January 2o-29. So I decided to come up with a Giggling Girl's Guide, as this would be a day to day non-totally-basketball-related blog, about this 10-day-9'o clock-habit of mine. Learning the news from Christopher John's tweet, a couple of days before their arrival here, I can clearly remember myself shouting my sister's and Aunt's name for attention and when they didn't respond at once, I jumped my way to where they were at and giddily told them the good news!
It was a distant-almost-non-existent-dream-come-true for the forever fangirl in me. Going to watch live basketball games is something I know I will never get tired of, any basketball game at that. How much more when it's going to be the National Team, with your favorite basketball guys in the roster and you haven't watched a live game in a long while simply because it's not possible since you've been a UAE-based-OFW for about a year now! I can be the luckiest sometimes, I know! Christopher John's a given, I'm a decade old fangirl. Thankyouverymuch. But when I figured, after some clicks and tabs, that my fave six-footerish-Manila boies are back on the list too, Dylan Simon and John Aldrech, there's no thinking twice anymore. Finally, the universe has conspired to give me exactly what I want, who I want! They're coming over to play ball and we'll be under the same Emirates sky for 10 days. Not bad, not bad at all.
Game-wise, I didn't know what to expect from this developmental team. I haven't been keeping close tabs on them. It's funny how from one tournament to another, they've been involved with constant changes, drastic ones regarding the players' line up, Japeth Aguilar and Greg Slaughter's not joining this particular tourney and I wasn't even aware Asi Taulava's part of the team until I saw some brawny blonde guy on the court the night of their first game. To the little details like their respective jersey numbers, from 6 to 17, from 14 to 13 to enumerate a few. My scatterbrainy self just couldn't keep up. So when I came to watch Game 1 one Thursday night, vs Al Wahda Syria, it turned out to be nothing like I ever expected because like I said, I wasn't expecting anything at all. But that doesn't mean my hopes are not high. In fact, I was ready to be dazzled, swept off my feet for I know what my team has something good to offer. Win or lose, a proud Pinay fangirl here, ready to embrace whatever my National Team has to throw my way, and boy did they not disappoint! Christopher John still makes awesome assists and pulls off crucial 3's. Dylan Simon still showcases athleticism, great ball handling, and sensational scoring. John Aldrech still blocks that baby away, gets that ball, and hitting them jumpshots on the offensive end as well. They've been good and now, they're better than ever! I'm impressed and the proudest beyond belief! As for the rest of the team, I have 9 more days left to observe, forgive the biased fangirl for day one.
But over and above everything else, Game 1 for me is all about that luxury of the familiar ambiance of being home, that comforting feeling of being inside a basketball court, of watching familiar faces play a familiar sport, of feeling that familiar blush and adrenaline rush, of being able to shout and cheer your heart out once again, of realizing you actually got what you wanted and of having that satisfying smile that says you, indeed, are incredibly happy for the time being. That's why when I heard the familiar sound of a buzzer announcing the game has come to an end, looked at the scoreboard and realized that we, Smart Gilas Pilipinas, won our first ever assignment in the tourney, 70-59, that familiar feeling of winning is definitely the best cherry-on-top-icing-on-the-cake moment I haven't had in a long time! Life can be such a sweet treat sometimes. It just takes time for it to come up with a confection or two, but when it finally arrives, get yourself ready to indulge! I surely did my assignment on that part of the deal also, in more ways than one!
For that Game One win and everything in between, SHUKRAN HABIBIS!
Game Two, here we go! :)